We're overjoyed to share the news that iPF Softwares has been awarded as one of the top software developers in all of Tanzania by Clutch who recently released their annual report honoring the world's best-performing technology companies.
Since 2015, our team has been dedicated to helping clients and partners, big and small, innovate, design, and develop impactful software applications for their organizations. Today, Clutch becomes the second reputable organization this year to recognize and award our passion for our craft after the Tanzania ICT Commission awarded us as the best Software Development Company in Tanzania in October 2021.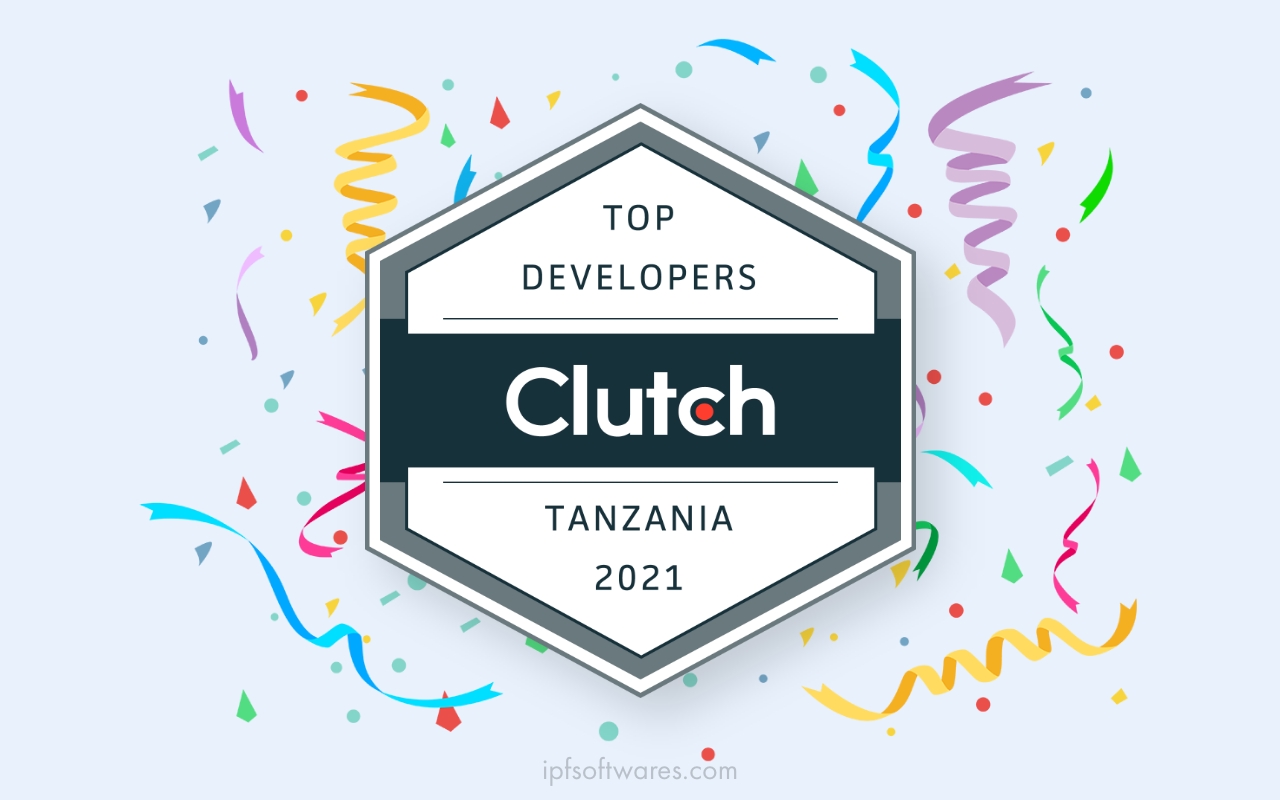 Top Developers Award by Clutch
About Clutch: B2B Market Research Firm
Clutch is a B2B market research firm based in Washington DC, designed to measure the strength of client-agency relationships, equip client-agency relationships, and provide B2B decision-makers with the data they need to make better partnership decisions.
Clutch specialists interview real clients, collect data, compare firms to one another and show the resulting ranks on their site.
Client experiences, testimonials, and market presence can all be used to break down a company's analysis.
Clutch provides all of this to assist you in determining which agency is best suited for your particular needs.
Top Software Developers in Tanzania: The Award
Being held to such high standards in such competitive markets is a significant achievement for us.
We believe that our position as a leader in software development in Tanzania is due to our clients and partners who constantly challenge us and share feedback both sweet and bitter. It's also due to our constant growth, and our focus on building high-quality digital solutions that will drive economic and social impact in Africa through mobile apps, website applications, research, and design.
To get a glimpse of what our clients say about us, take a look at some of the reviews they submitted to Clutch.
"They don't just take on projects; they're honestly passionate about them."

"We have a great degree of trust in iPF Softwares' work, and that really gives confidence moving forward."

"They showed great technical understanding and management of the project."

"They're connected with the problem we're trying to address, and it shows."
Interested to learn more reviews from our clients, visit our Clutch profile.
We'd like to thank all of our wonderful clients who took the time to review us on Clutch. Without them, this award would not be possible; special thanks to our team at iPF Softwares, the passionate, unconventional, and creative humans who always focus on delivering above and beyond, finding ways to add that extra touch of class and quality to every project they work on, and who are constantly challenging the status quo in pursuit of excellence.
At iPF Softwares, we believe Technology Use Is A Right Not A Privilege, and as such our purpose is to make sure people in Africa have access to world-class digital solutions and tools that will impact their lives economically and socially.
We do that by partnering with different organizations and helping them design, develop and innovate technology-driven solutions that help drive the intended impact.
Join the companies who rated iPF Softwares 4.8/5 on Clutch for top-notch quality, reliability, and communication on their projects, Email us at business@ipfsoftwares.com to get started with your project or submit your project brief through our contact us page.