We are happy to announce that we received the great honor of being awarded the best software development company in Tanzania during the 5th Annual ICT Conference by the Tanzania ICT Commission. As far as our country's history is concerned there has never been a local award for "Best software development company in Tanzania", until this year when the Tanzania ICT Commission launched the ICT Awards in Tanzania as part of early initiatives of the newly formed Ministry of Communication, Science and Technology led by Hon. Dr. Ashatu Kijaji to fast-track the involvement of ICT in social-economic growth.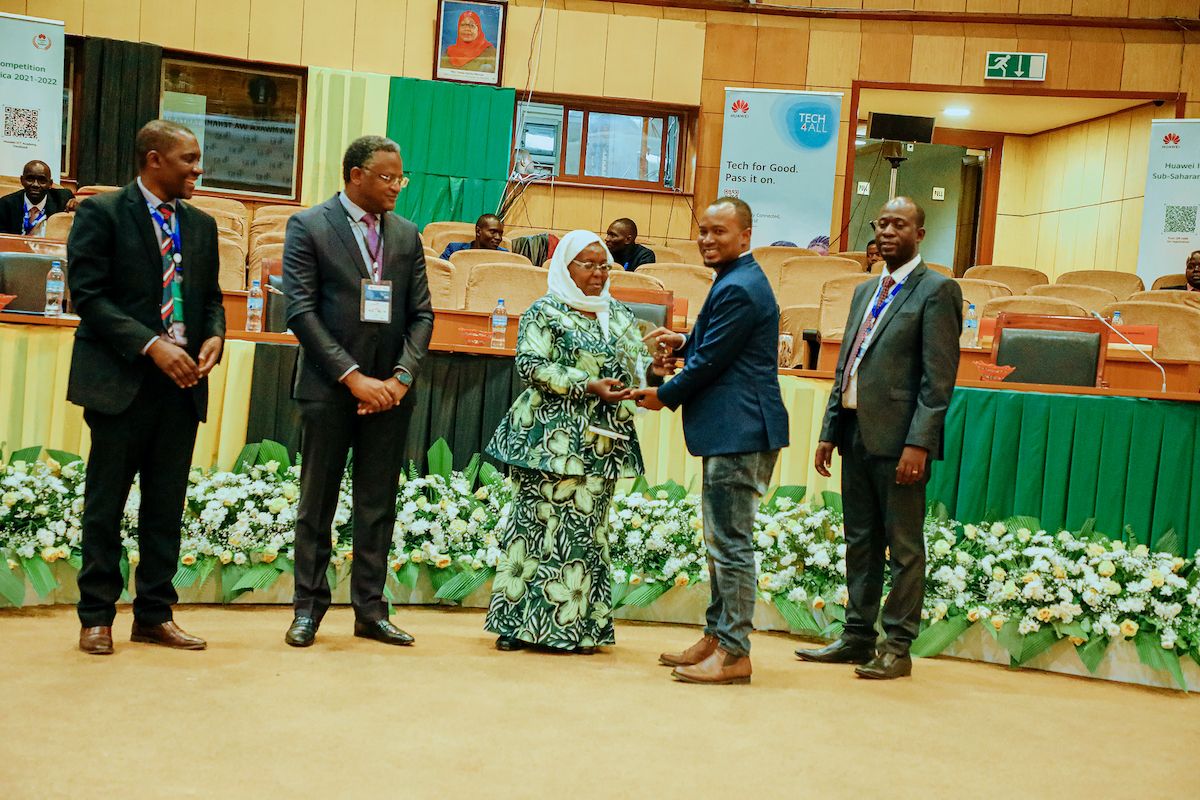 Grayson Julius Receiving the award on behalf of iPF Softwares
About The Tanzania Annual ICT Awards
1st Annual Tanzania ICT Awards ( 2021 ) - Celebrating the pioneers of ICT and encouraging excellence. The Tanzania ICT Awards shall partake the annual responsibility of identifying, recognizing, and rewarding outstanding performance in the ICT sector in Tanzania, listed below are the objectives of the ICT Award.


Identify, Recognise and Reward outstanding players in different economic sectors using ICT.

To provide knowledge and information by sharing best practices, experiences, and expertise.

Foster innovation and creativity in the sector.

Build awareness and confidence in the public, NGOs, Donors, civil society, International Community, and investors e.t.c.

To further promote the role of government in ensuring that ICT is a resource for all and encourage private and local participation.

Enhance greater regional collaboration in the development and promotion of ICT.

Accelerate effective use of information, education, communication, and technology (IECT) in the day-to-day lives of Tanzanians.
The Award: Best Company in Software Development
As described in the Tanzania ICT Commission The category for "The Best Company in Software Development Award" is awarded to the local software development company whose software solution(s) have a significant impact on local challenges which worked well in our favor since our main service is enabling organizations to realize and implement their impact-driven visions through technology, We take the extra step to understand our partner's vision and dreams; we challenge them and work together to bring their vision to life.
Our dedicated project teams execute projects using agile methodology and are fully responsible for the final product and quality at every sprint. Our delivery process allows you to flexibly manage your priorities as the project goes on in a way that gives you maximum return on investment, click this link to learn more about our services.

iPF Softwares Project Delivery Process
2021 has been a great year for us and our partners together we have achieved great things, below is a snapshot of a few selected achievements.
Earlier this year with our partners Human Development Innovation Fund ( HDIF ) we launched the innovation ecosystem map, an open-source and crowdsourced platform for mapping the Tanzania innovation ecosystem to improve collaboration among stakeholders.

With our partners CARE, we have scaled the Chomoka Platform into four more countries Uganda, Rwanda, Côte d'Ivoire, and Ghana in the quest of supporting more women and informal savings groups in Africa

We have scaled our in-house product Biashara Plus to two more countries South Africa & Zambia making a total of 7 countries using Biashara Plus.

We have officially launched our academy to build capacity for the African tech industry, you can learn more about iPF Academy here
To learn more about our culture and how we work visit our about us page
We're very honored for the recognition this award shines on the efforts we put in, and all glory be to the Lord Almighty who enables us. We would like to extend our heartfelt gratitude to our partners, clients, families, and friends for trusting and believing in us from the very first days to date. Special thanks to the team at iPF Softwares for the hard work, sleepless nights, 6 AM meetings, midnight deployments, weekend sprint reviews, and just the sheer passion and commitment they put in to deliver above and beyond which is what made this possible. Furthermore, we extend our appreciation to the ICT Commission and the Tanzania Ministry of ICT for their recognition.
Our mission is to build the largest software development company in Africa by 2030 — this award ignites and motivates us to work harder towards our mission and help more businesses to transform digitally.
A list of other organizations, initiatives, and individuals who received awards in different categories.
The Award for the Best Financial Technology Company - BCX

The Award for the Best Financial Institution in Using ICT - ABSA

The Award for the Best ICT Transformative Institution on Provision of Health Services - Jakaya Kikwete Cardiac Institute.

The Award for the Best Innovative ICT Student - Salome Mosha.

The Award for the Best ICT Startup - NALA Money

The Award for the Best ICT Incubation Hub - Apps and Girls.

The Award for the Best Regional Secretariat in Using ICT Applications - Dar es salaam.

The Award for the Best Local Government Authority in Using ICT Applications goes to Ubungo Municipal Council

The Award for the Best Ministry on ICT Integration in Sector Policies - the Ministry of Finance

The Award for the Best Company providing ICT Outsourcing Services - Serensic Limited.

The Award for the Best Mobile Network - Vodacom Tanzania

The Award for the Best ICT Transformative Training Institution - The Open University of Tanzania